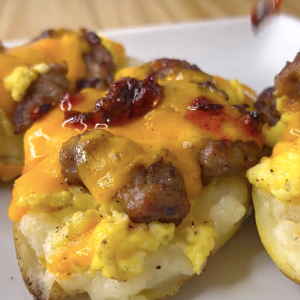 Cheese Chopper Cookbook Part 1: Chef Pat Lee's Cheesy Loaded Potato Skins
| Mr. Cheese
You're going to LOVE this cheesy recipe! Whether it be for a game day appetizer, prepared for a family or friends gathering, or just to get rid of some of those potatoes you have! This is a year-round appetizer, make it any and all the time! The fun part about the Cheesy Loaded Potato Skins (besides the eating them part) is that you can customize them however you'd like! Add ingredients, swap ingredients, make them EXTRA cheesy by adding more cheese, or MULTIPLE cheeses! The possibilities are endless! 
INGREDIENTS: 
8 slices of bacon 

4 large baked potatoes (about 2 lbs.)

3 tablespoons vegetable oil

1/2 teaspoon salt

1/4 teaspoon garlic powder

1/4 teaspoon paprika

1 tablespoon grated parmesan cheese

1/8 teaspoon pepper

2 cups shredded cheddar cheese

1/2 cup sour cream

2 large green onions, sliced 1/3 cup 

vegetable oil for deep frying
INSTRUCTIONS: 
In a 10-inch skillet, cook bacon over medium heat, stirring occasionally, until bacon is crisp; drain on paper towels.

Meanwhile, gently scrub potatoes, but do not peel. Pierce potatoes to allow steam to escape. Place on microwavable paper towels. Arrange in spoke pattern with narrow ends in center.

Microwave for 12 to 14 minutes, turning once, until tender. Cover; let stand for 5 minutes.

When potatoes are cool enough to handle, cut lengthwise in halves; carefully scoop out potato, leaving ¼-inch shells.

Save leftover potato centers for another use.

In small bowl, mix oil, salt, garlic powder, paprika, cheese and pepper.

Brush mixture over skins.

In deep fryer or 3-quart heavy saucepan, heat oil to 365°F.

Fry in batches for 5 minutes. Drain on paper towels.

Make Ahead tip: Potatoes can be prepared up to this point and refrigerated for up to 24 hours before continuing to step 6.

One hour before serving, allow potatoes to come to room temperature. Heat oven to 450° F. Lightly spray 13x9-inch (3 quart) glass baking dish.

Place potato skins, skin side up, in baking dish. Bake 8 minutes. Turn potato skins over and fill with cheese and bacon.

Bake 7 to 8 minutes or until cheese is melted. Top with sour cream and green onions.
Now grab a few and indulge in the cheesy goodness! 
We hope you enjoy these delicious Cheesy Loaded Potato Skins as much as we all did! We also hope that by using the Cheese Chopper it made your cheese preparation that much easier, faster, and cheesier! Make sure you remember to tag us in your final cheesy product on instagram and TikTok @thecheesechopper
If you still need a Cheese Chopper… you're missing out so click here! 
Want to join the chef's club!? Submit your recipes to mrcheese@cheesechopper.com for a chance to be featured!!!