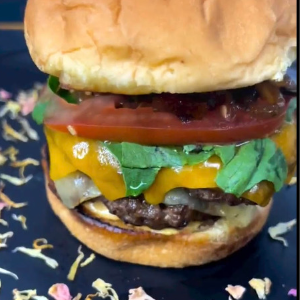 Cheese Chopper Cookbook Part 2: Chef Pat Lee's Double Smashburger
| Mr. Cheese
We all crave a good cheeseburger now and then and we are here to deliver! This smashburger is food of flavor and juices that will make your mouth water just thinking about it! Make this Double Smashburger for your next BBQ for a smash hit with all your family and friends! 
INGREDIENTS
1 1/2 pounds of ground beef

salt and black pepper 

garlic powder

cheddar Cheese/cheese of choice

buns of choice 

iceberg lettuce

large tomato 

ketchup

mustard

mayo

1 whole onion cut into rings

8 slices of bacon 

1/2 cup of brown sugar 

1/2 cup bourbon 

1/4 cup of dark coffee

1 jalapeno with seeds chopped 

1 cup of cremini mushrooms chopped 

1 tbsp unsalted butter 
INSTRUCTIONS
Increase griddle to medium/high heat. Place 2-4 burger balls onto hot griddle.

Working quickly, place parchment paper over the meat and firmly smash straight down into a thin patty.

Once patties are smashed, peel back and discard parchment papers and season patties with salt, pepper and garlic powder.

Cook 2 minutes on the first side or until seared and juices start to come to the surface.

Scrape under the burger with spatula facing down at a 45˚ angle to get under the caramelized part and flip.

Cook another 1 minute.

Top half of the patties with sliced cheese and cover cheese with the second patty. Repeat with remaining burgers and transfer them to a platter as they finish cooking.

Combine mushrooms, brown sugar, bacon, bourbon, coffee, and jalapenos in a mixing bowl and place desired amount on top of patty, enjoy! 
We are certain that this delicious burger will be your new favorite and one you won't be able to forget! Make sure you remember to tag us in your final burger product on instagram and TikTok @thecheesechopper
If you still need a Cheese Chopper click here!
Want to join the chef's club!? Submit your recipes to mrcheese@cheesechopper.com for a chance to be featured!!!