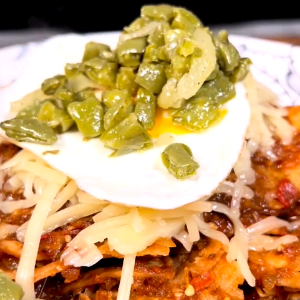 Cheese Chopper Cookbook Part 3: Luis Garza's Ancho Chili Nachos
| Mr. Cheese
Do you ever just crave nachos? If that's not you, then I hope you're prepared, because after this you definitely will. ALL THE TIME! These nachos are so tasty and flavorful! They taste like they were just made and brought to your table at the restaurant, but instead YOU made them in YOUR kitchen!! Check out the recipe here below! 
INGREDIENTS: 
aluminum foil

1 pound ground beef

1 package taco seasoning mix

1 (18 ounce) package restaurant-style tortilla chips

1 cup shredded cheddar cheese, or more for taste

1 (15.5 ounce) can refried beans

1 (10 ounce) can pitted black olives, drained and chopped

1 cup salsa

4 green onions, diced

1 (4 ounce) can sliced jalapeno peppers, drained
INSTRUCTIONS: 
Preheat the oven broiler. Set the rack oven about 6 inches from the heat source. Line a baking sheet with aluminum foil.

Cook and stir ground beef in a skillet over medium heat until meat is crumbly and no longer pink, about 5 to 10 minutes. 

Drain excess grease. Stir in water and taco seasoning mix, simmer until beef mixture has thickened, about 8 to 10 minutes. 

Spread tortilla chips on the prepared baking sheet. Top with cheddar cheese. Dot with refried beans and ground beef mixture. 

Broil in a preheated oven until the cheese is melted, about 3 to 5 minutes. 

Top nachos with olives, salsa, sour cream, green onions, and jalapeno peppers. Enjoy! 
We hope you love the Ancho Chili Nachos as much as we all did! Feel free to customize them anyway you'd like, after all that is why nachos can be so fun! You can put anything and everything on them! Make sure you remember to tag us in your Ancho Chili Nachos on instagram and TikTok @thecheesechopper
If you still need a Cheese Chopper click here! 
Want to join the chef's club!? Submit your recipes to mrcheese@cheesechopper.com for a chance to be featured!!!