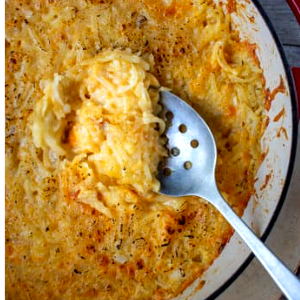 Cheese Chopper Cookbook Part 5: Cheesy Potato Casserole
| Mr. Cheese
Cheesy Potato Casserole…just those three words together make our mouths water! These creamy, cheesy potatoes are so easy! They are such a great side dish (even though we could eat them as the entire meal themselves) because they literally melt in your mouth. We are certain that if you make this for any event or just for family, everyone will be talking about them! 
A few other great perks: one, this dish is very versatile! You could make it for breakfast or a dinner side. Two, it is a VERY good dish to make ahead of time and bake when you're ready to serve! Three, Cheesy Potato Casserole is very easy and not too time consuming! With this delicious and mouth watering dish, we can almost guarantee you won't have any leftovers! 
INGREDIENTS:
2 Tbsp minced onion

½ cup melted butter 

1 can

cream of chicken soup 

1 pint sour cream 

2 cups Cheese Chopper shredded

cheese 

Cooking spray 

Salt and pepper to taste
Don't forget to use your Cheese Chopper for cheese shredding!
INSTRUCTIONS: 
Preheat oven to 350 degrees

In a large bowl combine all ingredients (make sure the onion is minced and the butter is melted) 

Mix until everything is mixed together evenly 

Spray the pan (we recommend a 9x13) then add mixture and spread throughout pan

Bake for 35 minutes

Remove and top with more shredded cheese 

Return to oven and bake for 10 more minutes. 

Remove from oven and enjoy! 
We are DAIRY excited (see what we did there) to see how much you love these cheesy taters. So after you have a couple servings, we know you can't have just one, and are relaxing on the couch about to make a post, make sure you remember to tag us on instagram and TikTok @thecheesechopper. We love to hear what you and/or those you are serving think, and we LOVE to see the cheese chopper being used for GRATE things!  
If you still need a Cheese Chopper… you're missing out so click here! 
Want to see another recipe!? Check out our Ancho Chili Nachos here! 
Want to join the chef's club!? Submit your recipes to mrcheese@cheesechopper.com for a chance to be featured!!!